Paul Kratter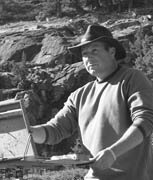 Paul Kratter was born and raised in San Francisco area. He received a degree in Graphic Arts at the College of San Mateo, then four years at the Art Center College of Design in Pasadena, California, graduating with a Bachelor of arts Degree in Illustration.
Kratter's two great passions have always been sports and wildlife. He was fortunate to make a living mainly in advertising, which included a long relationship with the National Football League and various major league baseball clubs. He also worked for a variety of zoos and The Nature Company, illustrated a number of children's books, including "The Living Rainforest" .
About 2002 Paul Kratter became interested in the immediacy and spontaneity of the plein air approach and started painting in the East Bay Hills near his home. He soon had a collection of works and began to show in galleries and joined various plein air events.
His style changed almost overnight, although his approach remained intact, utilizing solid drawing skills and portraying strong graphic shapes, painting outdoors has become a passion. He continues to participate in a number of plein air events annually in California. Each has its own unique topography, light and challenges, which forces him to keep his work fresh and loose.
Paul Kratter's clients have included The Nature Company, NFL properties, Portal Publications, National Geographic, Alaska Dept. of Fish and Game, Ketchikan Visitor Center, Soundprints Publishing and Charlesbridge Publishing. His work is featured in six nature publications. He has received many awards through the years.