Joseph C. Orr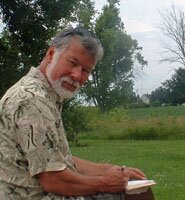 Painter Joseph Orr paints the landscape of America, in places he likes to visit and exhibit his work. Working primarily from sketches made on location, his finished paintings capture the essence of the scene and his attention to light and shadow bring mood and flavor to make each a work of art. His studies are centered in scenes of solitude allowing the viewer to escape the pressures of everyday living.
Orr's landscapes have garnered many awards for the artist, making Joseph a recognized viable component of the contemporary art world. Four times, as recently as 2002, his paintings have been included among the Arts for the Parks "Top 100" competition in Jackson, Wyoming. In 1993, his entry won the historical Art Award.
The magazines Southwest Art, American Artist, and The Artist's have featured his work. Joseph Orr has contributed chapters or instructional material to several Northlight books, including Acrylic Painting Techniques by Earl Killeen; NorthLight Artist's Guide to Materials and Techniques by Phil Metzger, and acrylic Painting Styles and Techniques by Rachel Wolf. Other publications in which Orr's painting illustrate the pages are Art From the Parks by Rachel R. Wolf, and A Town on Two Rivers by Victoria Hubbell.
Joseph Orr is listed in Who's Who in American Art.